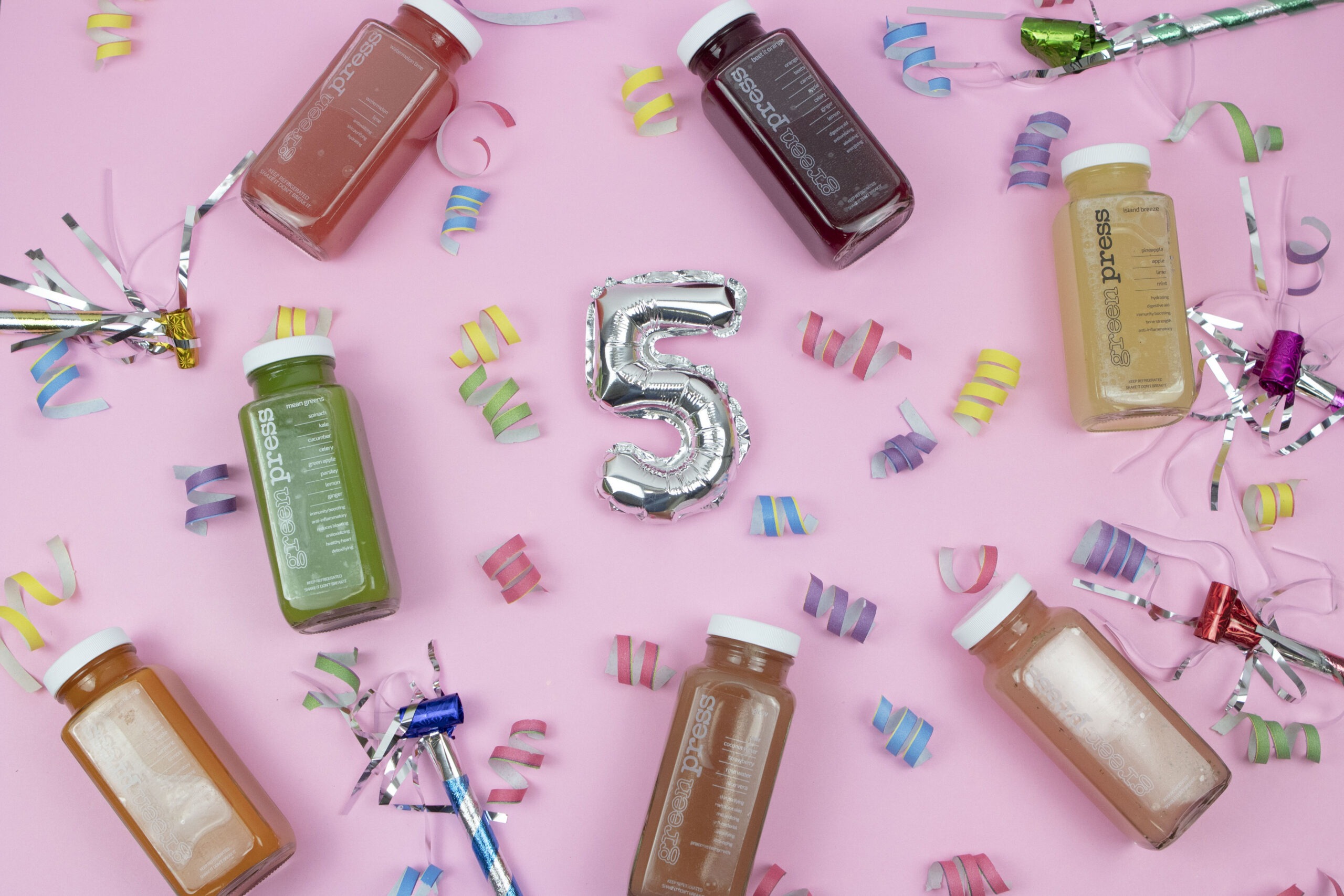 It's crazy how time flies… but Green Press is celebrating 5 years.  We couldn't thank our friends, family, & loyal customers who have all made this possible enough.  It has definitely been quite the journey.  To say we are grateful would be an understatement.  Even during these difficult times of a pandemic, and the ongoing construction in Downtown Oakville, you have supported us and have continued to find ways to do so by either ordering online, ordering through our delivery partners, or visiting us in store.  For that we are forever grateful.
Our Story:
Our humble beginnings started in Downtown Oakville in 2015 where we were welcomed with open arms.  We met wonderful new people who quickly became our friends.  We grew and opened our second location in Downtown Toronto at the Hudson's Bay Centre.  The same way our business was growing so was our little family.  We became a family of three on New Years day in 2017 as we welcomed our baby girl Selene.  We continued to work hard to grow our business and expanded our delivery reach to cover the entire GTA and started to offer free delivery to these regions as well. After constantly bike riding to Port Credit and wishing we had a juice, we decided to open up our third location in Port Credit Mississauga.  We opened up in June 2019 and since then have expanded our in store menu to include a power bowls, wraps, and hot soups.  Our family grew bigger when we welcomed our 2nd baby girl Mariam in December 2019.  We're not sure if there's a correlation between us conceiving and us opening up a new location. Anyhow!! We continue on this journey to learn, grow and expand.  We love what we do and wouldn't change it a single bit!  We strive to continue to improve.  We also have all of you to thank for helping us to get so far.
Let's Party:
This weekend, we've decided to do something we've never done before.  We are offering in stores only (Mississauga and Oakville) 40% off all of our cold pressed juices, shots, & jars.  We are also giving away a FREE Wellness Shot (that we will be launching on Friday Nov 6, 2020) and a FREE Ginger Shot.  No purchase necessary for the 2 free shots, just come by and say Hello!  You may also pre order cleanses or fasts this weekend but please note they must be picked up before November 12, 2020.
Can't Make It?
P.S.  For anyone who can't make it, we've created a coupon code online that can be used all weekend.  Please use coupon code HAPPY5YEARS for 20% off your purchase (excludes grocery, supplements and partner products).  Also please note, due to another really exciting announcement coming later next week, please make sure you choose your delivery date for this promotion before Nov 12, 2020.  You'll find out why in the coming week!
Thank you and hope we can see you all there!
With Love,
Samar & Suhail
Green Press Inc.