Green Press is a family owned and operated organic cold pressed juice company. It was founded by Samar Harb, a Registered Holistic Nutritionist and Suhail Taji, a Finance Professional with a shared passion for health and wellness. Our mission Is to help our communities live healthier lifestyles through the provision of clean, nutritious eats, and an active lifestyle. All of our juices and juice cleanses are designed by a Registered Holistic Nutritionist. Our company is continuously growing to meet the needs of our customers. Green Press now offers other products to compliment the juice like smoothies, soups, salads, hot drinks, savoury bowls, breakfast jars, kombucha and healthy snacks.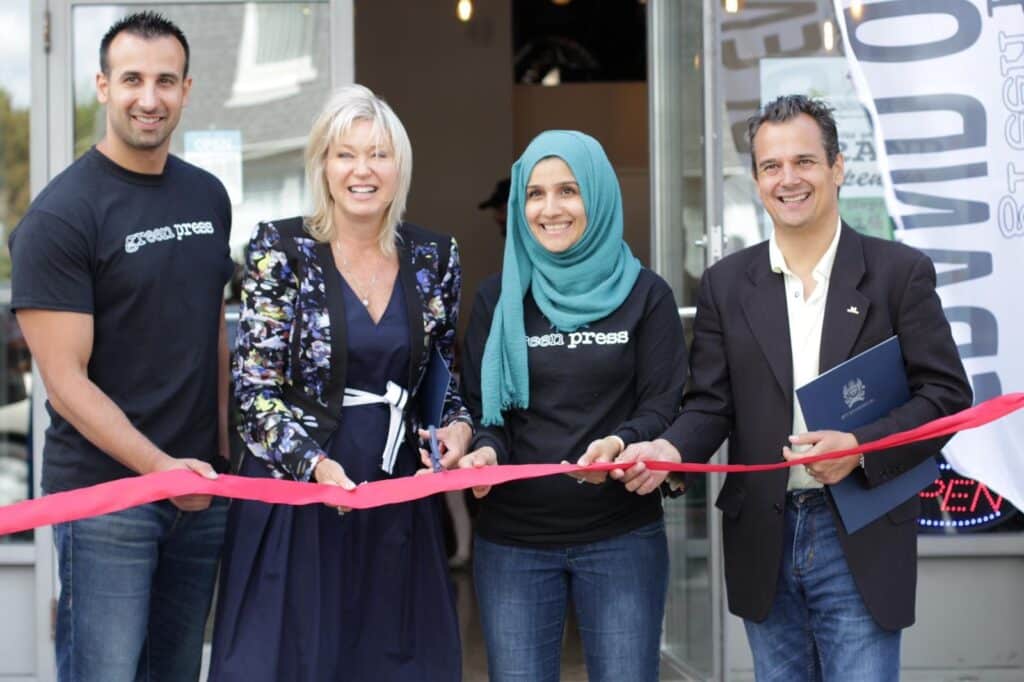 We use the highest quality certified organic produce. Our juices are certified organic by Ecocert Canada.

Our juicing method involves a hydraulic press that grinds the produce and then squeezes out the juice without the use of heat. This juicing method provides 3-5x more the vitamins and nutrients than any other juicing method. It also keeps the enzymes alive, as opposed to other juicing methods that produce heat that instantly destroy the enzymes.

FRESH | RAW | UNPASTEURIZED | NO HPP/NO UV LIGHT
At Green Press our promise to always provide you with exceptional products. We don't add any additives, preservatives, or anything else to the juices. They are raw and unpasteurized, which will only allow for a short shelf life, but if something doesn't go bad… it IS BAD for you. Unlike other companies who use high pressure pasteurization (HPP) or UV light to extend shelf life, we continue to keep our product raw and unpasteurized to deliver the highest quality and most nutrients in a juice as much as possible.

We package our juice in reusable and recyclable glass bottles to reduce our environmental impact as much as possible. We also offer our customers incentives to bring back the glass bottles by offering a reward program that you can collect and redeem your points on your juice purchases. Click here to view our bottle recycling program.

We source our organic produce from local Canadian farms whenever possible and whenever the crop is available. At times that local produce is available (mostly through the summer) we offer farm to bottle processing and packaging in less than 24 hours.