Nutritionist Designed Cleanses & Fasts
Committing to a juice cleanse is a great first step leading into a healthier lifestyle. 
Cleansing is a great way to rid your body of toxins, kick-start your metabolism, increase your energy levels, control your cravings, mood swings, increase mental focus & clarity, and support your immune system.  
A juice cleanse is a great way of detoxifying your body as it gives your digestive system a break while simultaneously providing your body with essential nutrients, vitamins, minerals, and enzymes it requires to function properly. This allows your body to get rid of toxins and focus on healing ailments in your body.
Why Cleanse with Green Press?
Cleanse
+ Still Eat Option
At Green Press we have two options for you to choose from. We have juice fast options where you are just drinking juice and juice cleanse packages where you are still able to eat! We realize that fasting isn't for everyone so we have formulated a package where you can still eat! This is also a gentle way to ease in and ease off a juice fast so that you are not completely shocking your body. Don't know what is right for you ? We can help! Speak to one of our Registered Holistic Nutritionists either by emailing us or on our Live Chat.

LiveChat with a Registered Holistic Nutritionist ANYTIME!
We are here to help you every step if the way!  If you have any questions we are always available.  You can speak to one of our LIVECHAT agents, who is actually a REAL person. We have a Registered Holistic Nutritionist (RHN) who can help answer any questions you have.  Please specify in your chat if you need to speak to a RHN.
You can also email us at info@greenpress.ca or call us anytime in store.   
Both our cleanse and fast options are designed by a team of Registered Holistic Nutritionists.  We can customize any of the cleanses or fasts to recommend what's best for you.  Speak to our Live agent if you want recommendations on what's best for you!
YOU CAN STILL EAT WITH THIS OPTION – WE PROVIDE A LIST OF FOODS YOU CAN AND CAN'T HAVE
A juice cleanse is a great choice for anyone who is new to juicing and would like to incorporate juicing into their daily regimen while cleaning up their diet. It also helps with ensuring that you continue with healthy eating after your cleanse is over since it really helps you get on track with eating smaller more frequent meals. After all, this is a journey not a quick fix sort of thing!
This option is also great for:
– Easing in and out of a juice fast
– If you want to be able to continue working out while cleansing
– Not ready to give up eating
– First timers
With a juice cleanse you receive 3 juices per day (355 mL) and 2 booster shots.  Each day is numbered in order of how you should take them through out the day. With your package we also provide you a list of foods that you should avoid and foods that are allowed during your cleanse.  
We have a few different options for cleanse packages to suit your needs.  We've recently changed our pre existing cleanse packages and added 3 new ones.  If you have any questions you are welcome to speak to our Registered Holistic Nutritionist LIVE AGENT on chat that can help you out. 
Evergreens
Wellness Shot
Beet it Orange
E3 Live Shot
Colour me Healthy
Mean Greens
Wellness Shot
Glow
E3 Live Shot
Royal Flush
Mean Greens
Wellness Shot
Celery Juice
E3 Live Shot
Evergreens
Celery Juice
Wellness Shot
Glow
E3 Live Shot
Mean Greens
Royal Flush
Wellness Shot
Fine and Dandy
E3 Live Shot
Beet it Orange
Mean Greens
Turmeric Shot
Celery Juice
E3 Live Shot
Fine and Dandy
JUST GIVE ME THE JUICE!  DRINK ONLY THE JUICES & SHOTS PROVIDED
A juice fast is a great way of cleansing and detoxifying your body.  Think of a juice fast as a way of hitting a reset button.  After only 3 days you can start to notice amazing results! The first three days are always the most difficult, but once you pass the three days you really start to feel better.  Juice fasting can help increase energy levels, improve sleep quality, increase energy levels throughout the day, improve digestion and absorption, reduce your need for caffeine to get you through your day, help you shed some unwanted fat, and really put you in the right direction for healthier eating and living.
You are giving your digestive system a break so that you body can focus on healing other parts of your body.  If you need more information we always have a nutritionist that is able to help guide you on which option is best for you! The bottles are 355 mL.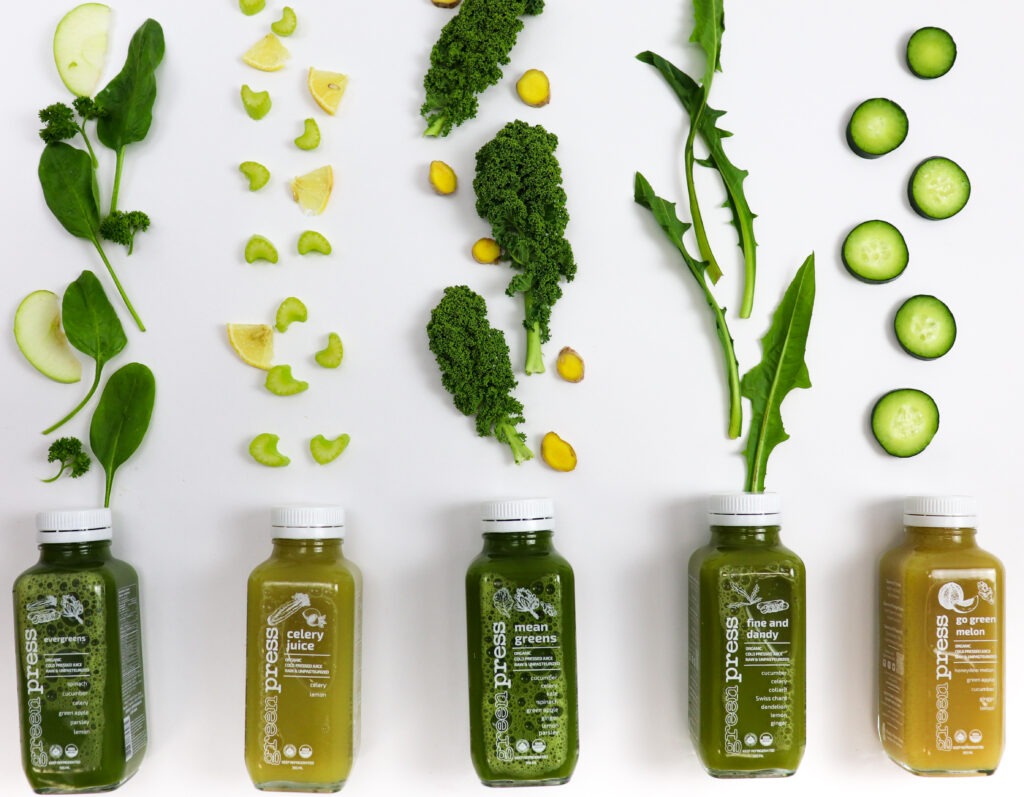 1. Celery Juice
2. Wellness Shot
3. Pineapple Chia
4. Beet it Orange
5. E3 Live Shot
6.  Colour me Healthy
7. Wellness Shot
8. Evergreens
9. Vanilla Almond
1. Celery Juice
2. Wellness Shot
3. Beet it Orange
4. Mean Greens
5. E3 Live Shot
6.  Colour me Healthy
7. Wellness Shot
8. Evergreens
9. Vanilla Almond
1. Celery Juice
2. Wellness Shot
3. Royal Flush
4. Mean Greens
5. E3 Live Shot
6.  Fine and Dandy
7. Wellness Shot
8. Evergreens
9. Vanilla Almond